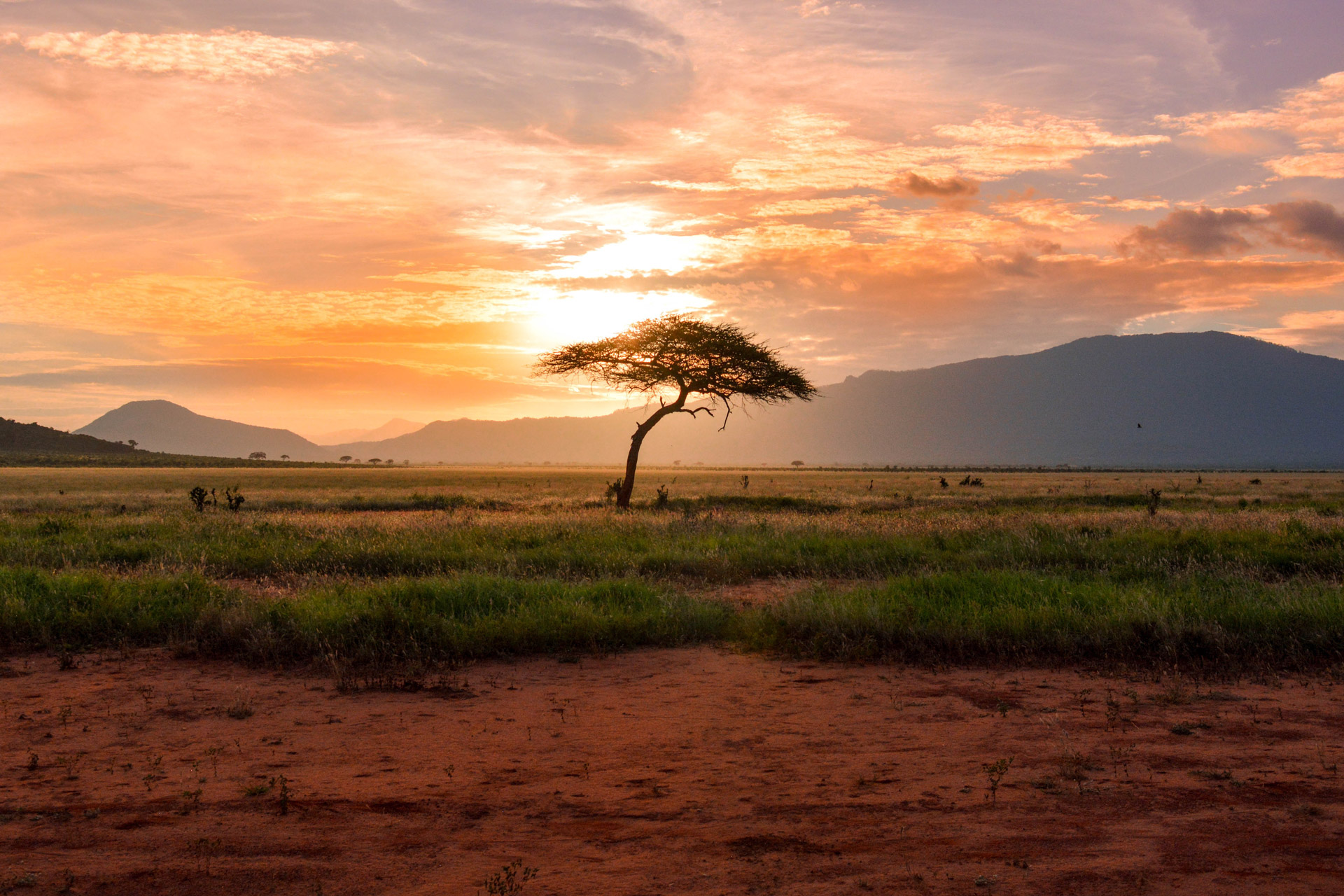 Projects
Tabakorole Gold Project
---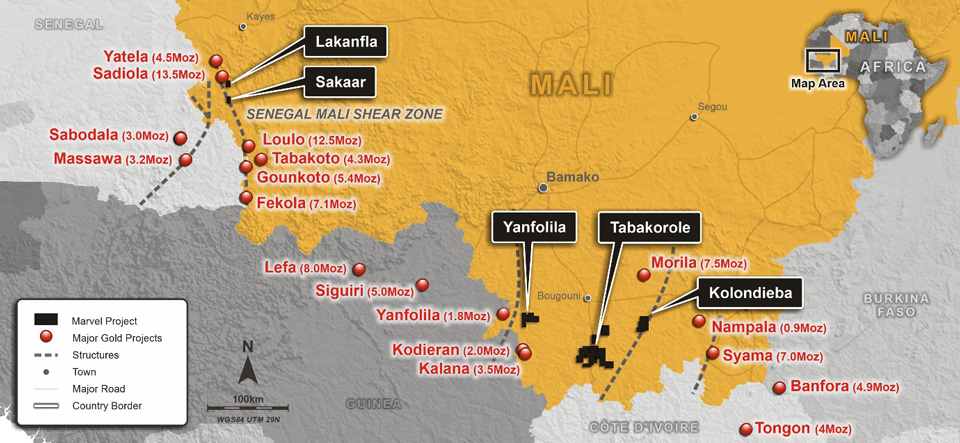 The Tabakorole Gold Project, located in southern Mali approximately 230km south of the capital city of Bamako, is comprised of 10 tenement areas covering a total area of 830 km2.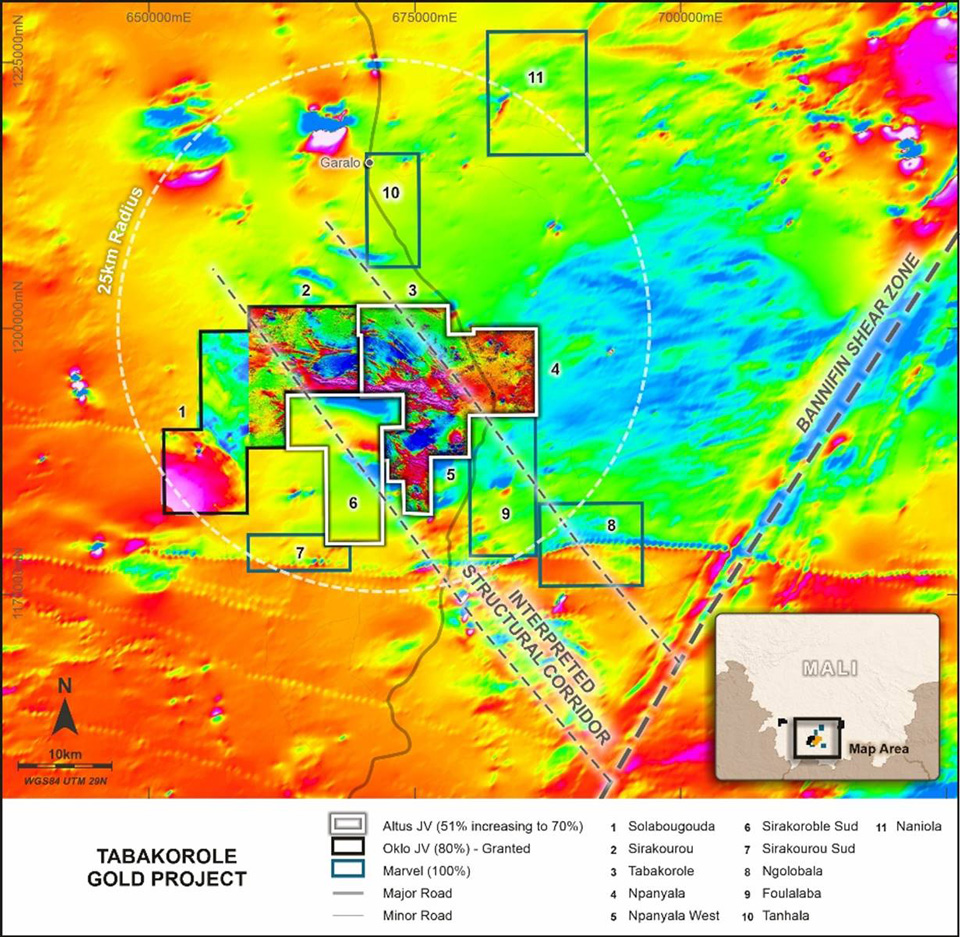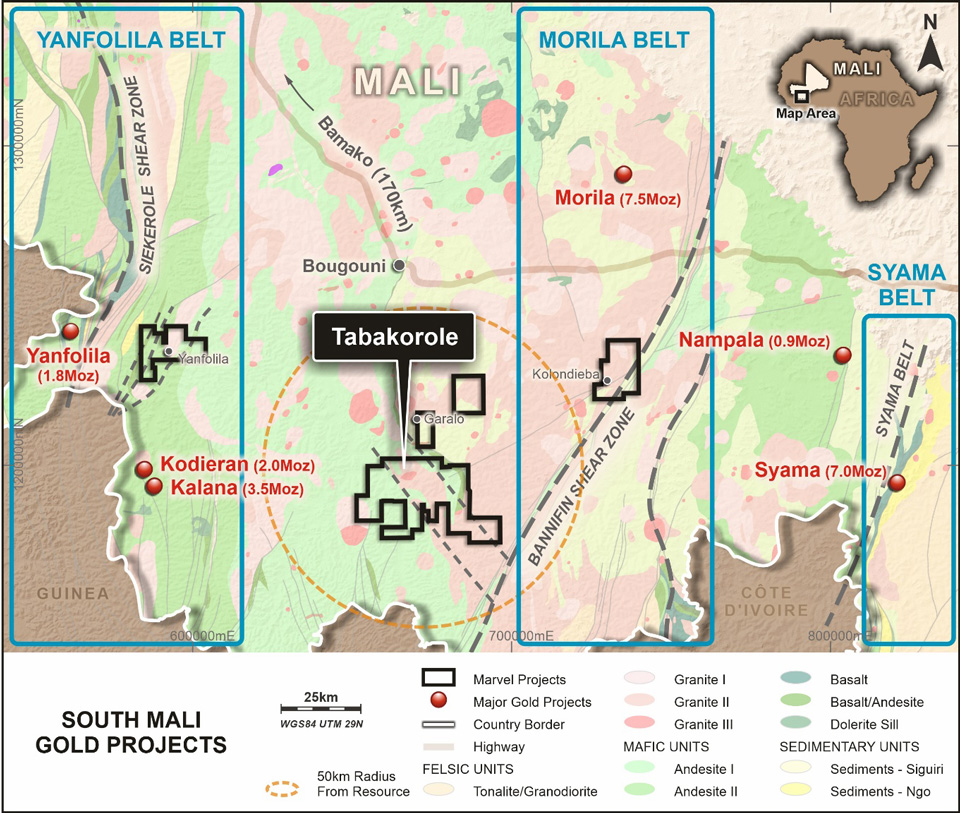 It is located between the Siekerole Shear Zone and the Bannifin Shear Zone in southern Mali and is a possible large splay off the Bannifin Shear Zone.
JORC Mineral Resource
The Company announced a JORC compliant Mineral Resource in September 2020. The upgraded Mineral Resource represents a 54% increase in ounces and a 20% increase in grade from the 2007 Mineral Resource estimate (NI 43-101) with a total combined Mineral Resource of 23.9 million tonnes at 1.2 g/t for 910,000 ounces.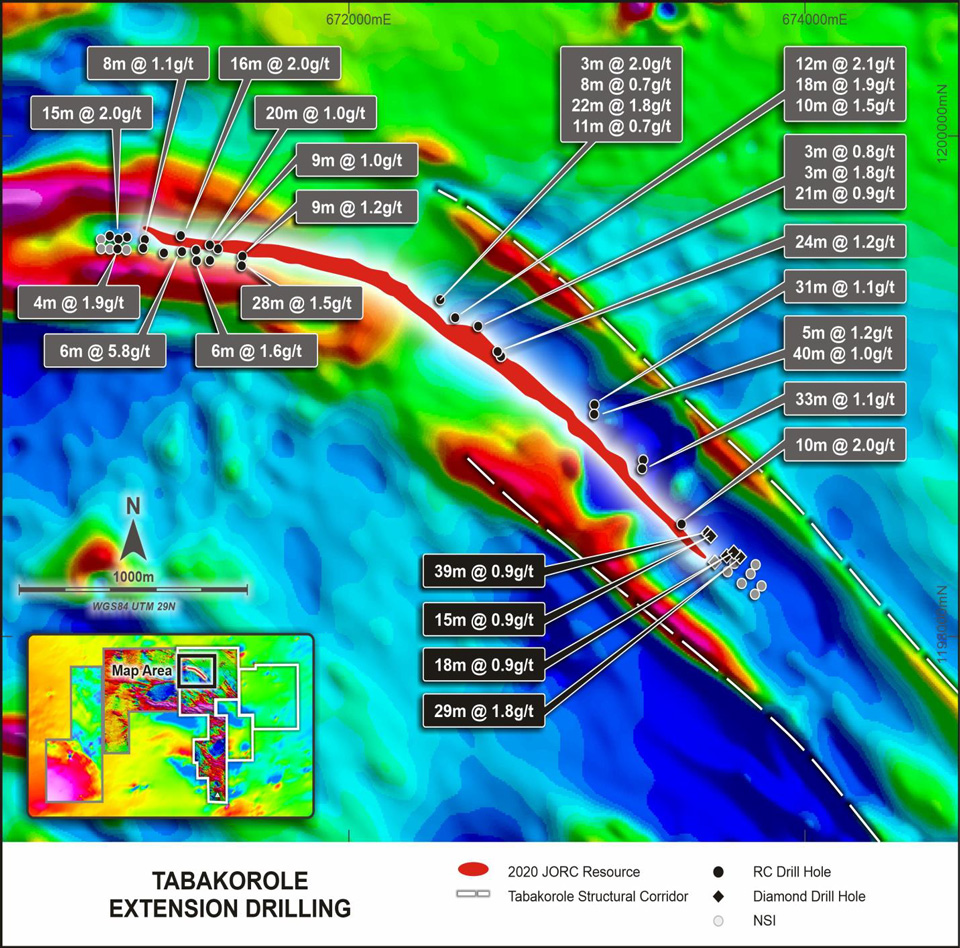 Tabakorole Exploration & Drilling
Drilling by the Company at Tabakorole to the end of 2020 included a 92-hole (1,811m) shallow aircore drilling program and an 8-hole (1,544m) diamond drilling program, which was included in the current Mineral Resource estimate.
The 2020 Mineral Resource estimate was open to the north-west and south-east with a 5,300m RC and 950m diamond program undertaken during the March 2021 quarter.
Five holes drilled into the central zone are expected to vastly improve the Mineral Resource, including:
12m at 2.1 g/t gold from 18m, 18m at 1.9 g/t gold from 53m and 10m at 1.5 g/t gold from 97m (Hole 21TBKRC-005)
22m at 1.8 g/t gold from 77m (Hole 21TBKRC-006)
Ten holes were drilled to test the south-east extension, notable results included:
29m at 1.8 g/t gold from 178m (Hole 21TBKRC-001)
24m at 1.2 g/t gold from 13m (Hole 21TBKRC-002)
14m at 0.8 g/t gold from 17m (Hole 21TBKRC-003)
The results successfully extended the existing strike length a further 150m to the south-east. Hole 21TBKRC-001, which intersected 23m at 2.0 g/t gold (later extended to 29m @ 1.8g/t gold with a diamond tail), confirming the continuity of the deposit to the south-east.
20 holes drilled into the north-west extension successfully extended the strike to the north-west, with best intersections including:
15m at 2.0 g/t gold from 25m (Hole 20TBKRC-018)
16m at 2.0 g/t gold from 75m (Hole 20TBKRC-014) (potential new zone outside of existing Mineral Resource)
6m at 5.8 g/t gold from 61m (Hole 20TBKRC-015)
28m at 1.5 g/t gold from 121m (20TBKRC-008)
20TBKRC015 (6m at 5.8 g/t gold) is expected to improve the grade of the Tabakorole Mineral Resource, whilst hole 20TBKRC014 (16m at 2.0 g/t gold) sits entirely outside the existing modelled Mineral Resource, potentially representing an entirely new zone of mineralisation.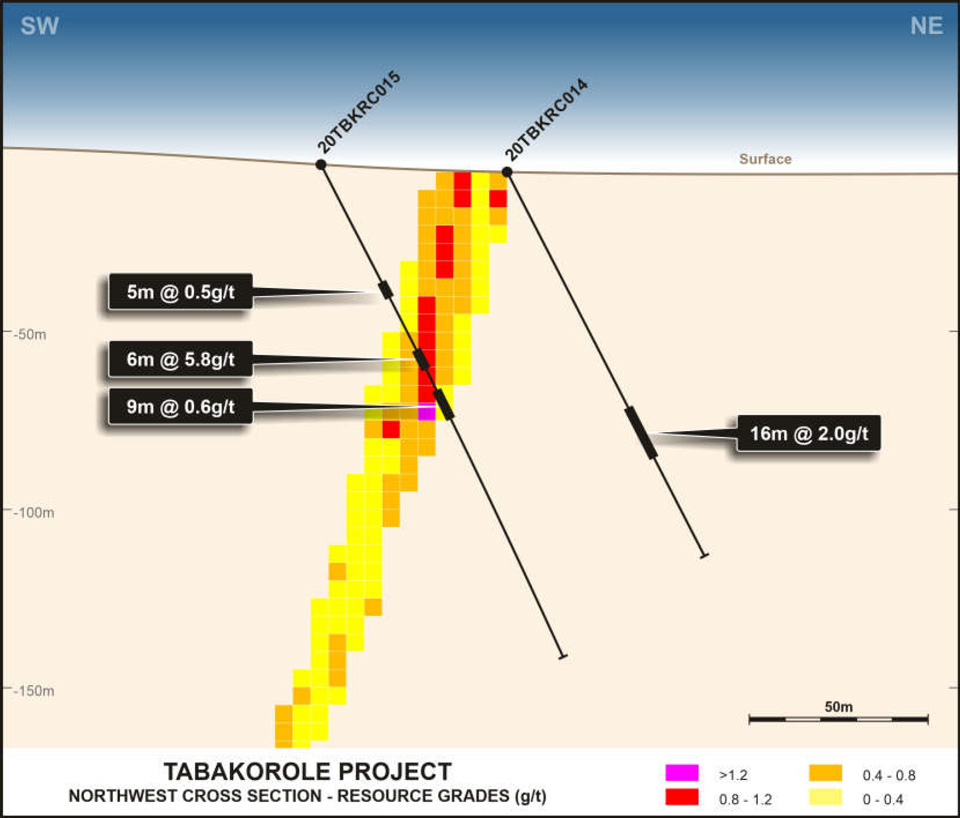 Tabakorole Regional Exploration
In the 12 months since acquisition of the project, the landholding has grown from 100km2 to 830km2. During this time, Marvel has collected over 7,000 soil samples with multi-element assays and completed 5,870 line km of high-resolution ground magnetics as part of an ongoing regional exploration program at Tabakorole. Numerous targets have been identified for drilling commencing Q4 2021.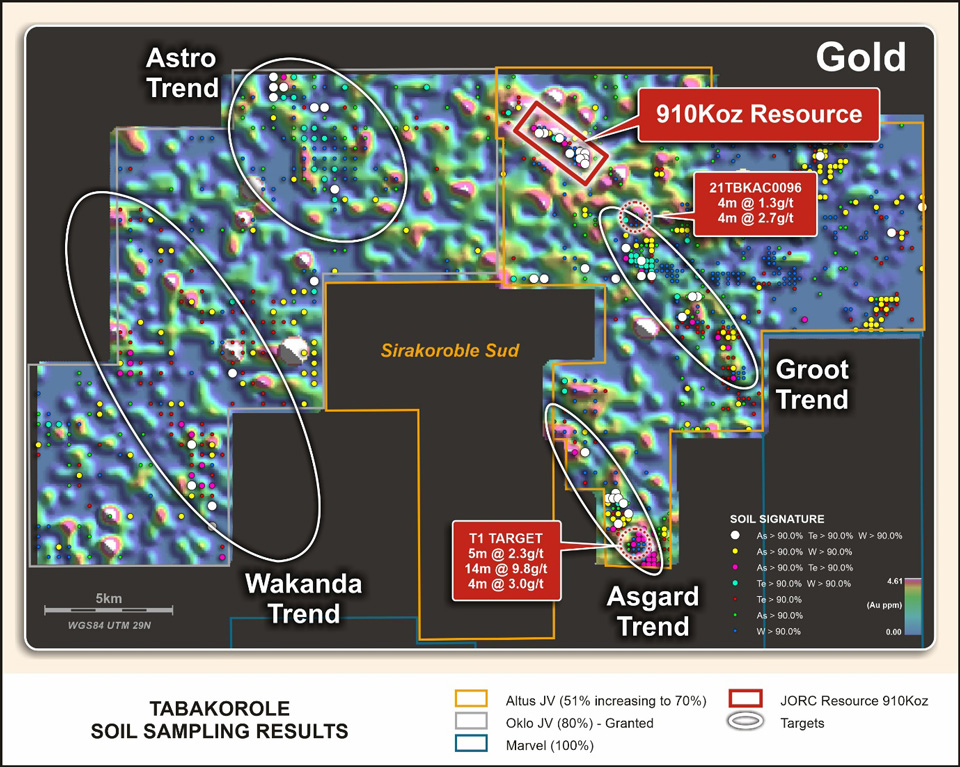 Regional aircore drilling has also encountered gold mineralisation approximately 3km south-east of the Tabakorole deposit including 4m at 2.7 g/t from 20m (terminating in mineralisation). Nearby artisanal workings reinforce the potential prospectivity of this target. This is highly encouraging for the region's prospectivity and for the likelihood of making additional discoveries to complement the growing Mineral Resource at Tabakorole.
Metallurgical Testwork
A total of four composite samples were collected from diamond drillholes completed by the company in mid-2020. The composites were made from the coarse split of diamond drilling samples based on the drillhole locations within the deposit and the head grade assay of the original samples.
The composites targeted the current Mineral Resource grade of 1.2 g/t gold and ranged from 1.1-1.9 g/t gold. All samples were taken in fresh rock as this material represents approximately 90% of the Tabakorole Mineral Resource. Initial bottle roll testing is the industry standard first step to determine gold recoveries from cyanide leaching.
Results from the bottle roll testing showed high recoveries from all samples, with low cyanide and lime consumption. Average leach recoveries were 92.7%, 94.8% and 96.6% for the four samples at the three grind sizes.
The high recoveries show that the gold is likely to be recoverable via a simple carbon-in-leach process flow sheet, with no indications of refractory gold.
Community Development Programs
The first community initiative since commenced exploration at Tabakorole was completed and commissioned during the March 2021 quarter.
The Company installed a solar powered water pump and elevated water tank storage for the village of Tabakorole, the nearest village to the project area with a population of approximately 800 people.
This is significant for the local people as it provides water on demand and saves considerable time and effort in not having to draw water from the bore by hand as well as providing a small water reserve.

Next Steps
The Company has commenced a 3,400m diamond drilling program to infill mineralisation previously drilled in the central zone and adding definition to the north-west zone, which included 16m at 2.0g/t gold from 75m and 6m at 5.8g/t gold from 61m.
This drilling, combined with the previous 5,400m RC and 950m diamond programs, will feed into an upgraded JORC Mineral Resource expected in late September 2021.