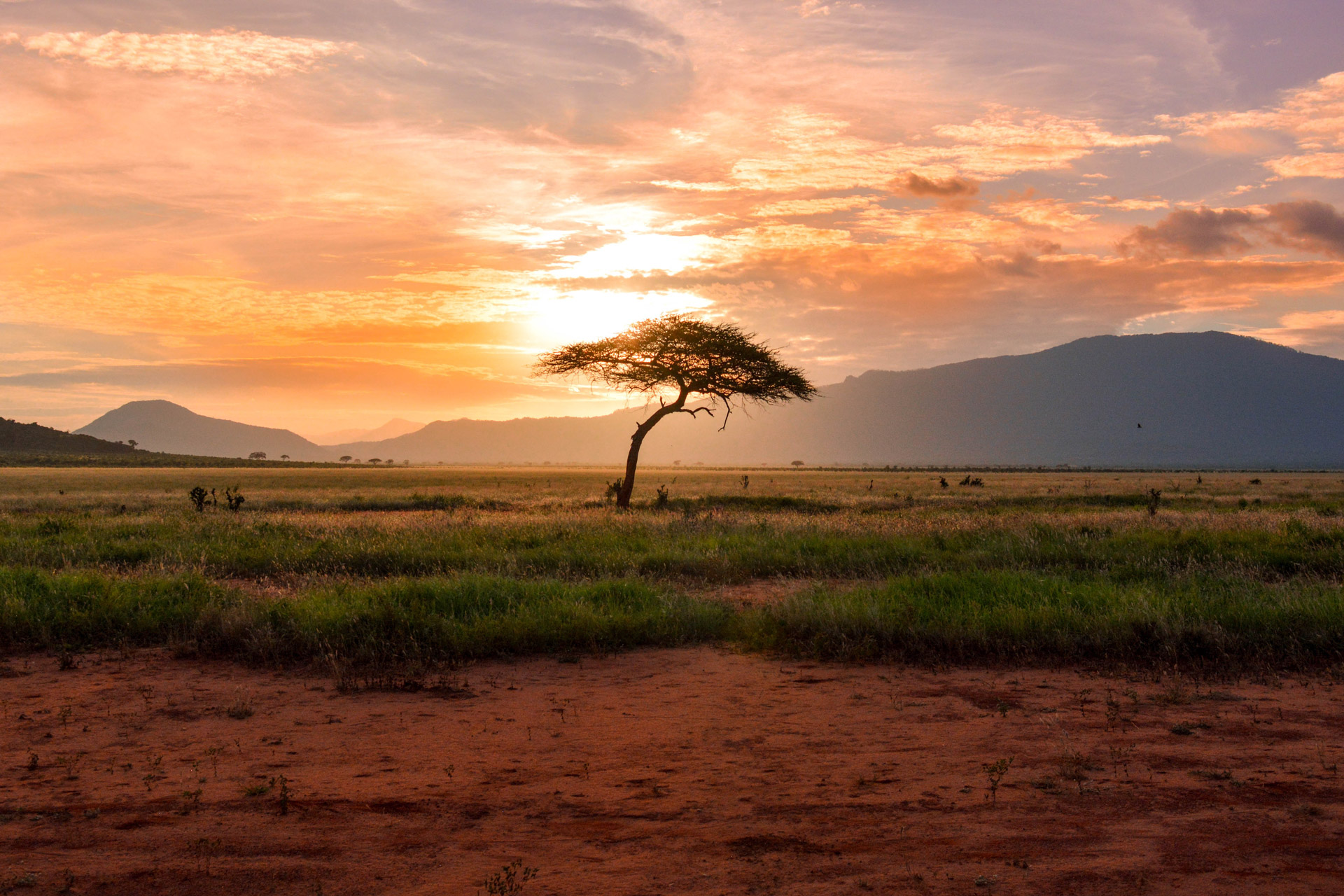 Projects
Tabakorole Gold Project
---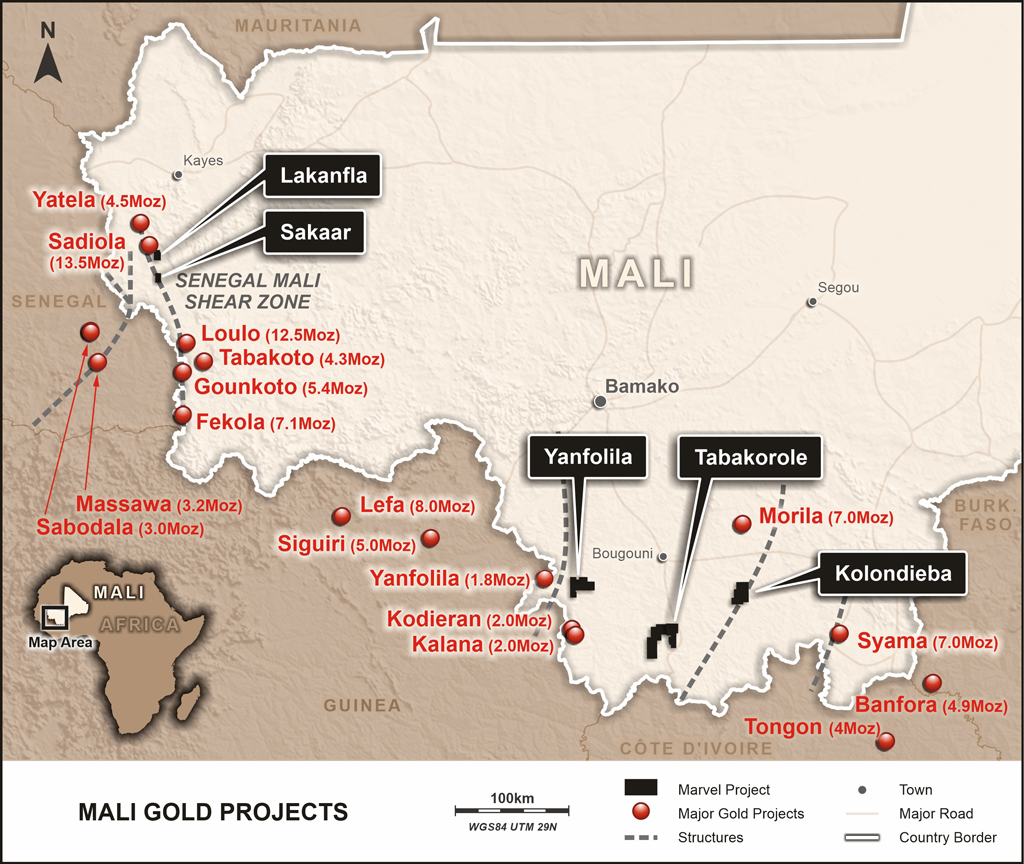 The Tabakorole Gold Project covers an area of 100 km2 and is located in southern Mali, approximately 230km south of the capital city of Bamako.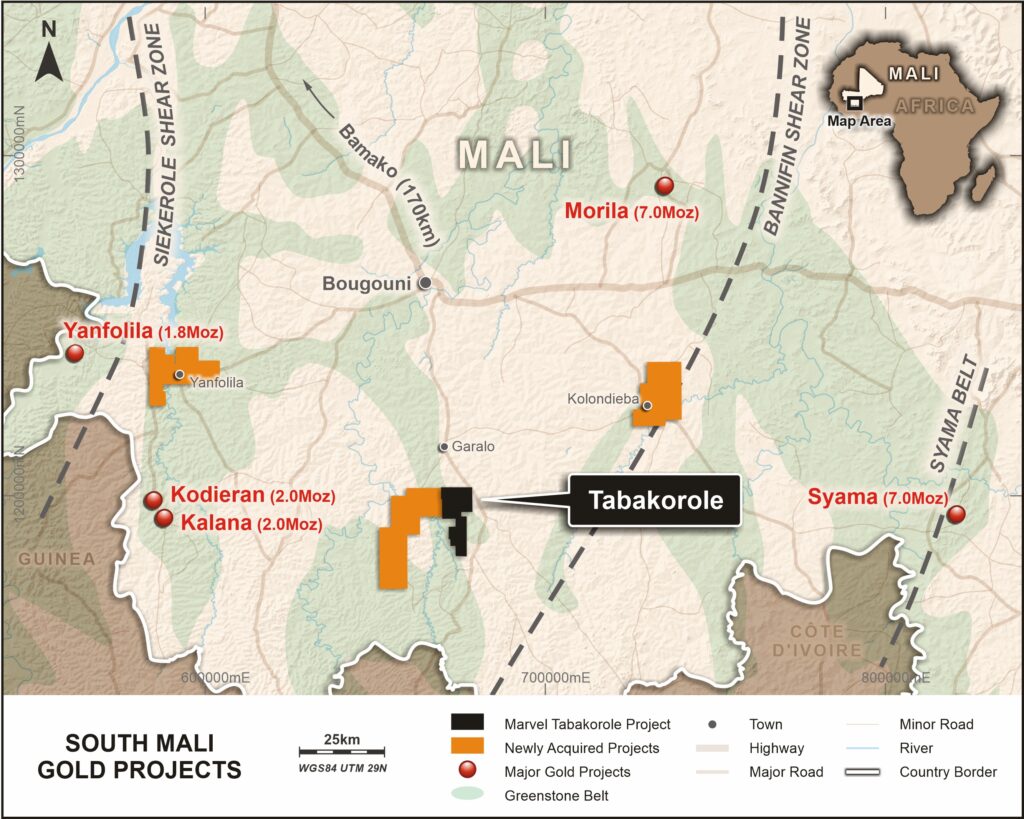 It is located between the Siekerole Shear Zone and the Bannifin Shear Zone in southern Mali and is a possible large splay off the Bannifin Shear Zone.
Historical results of diamond and Reverse Circulation ('RC') drilling at Tabakorole include: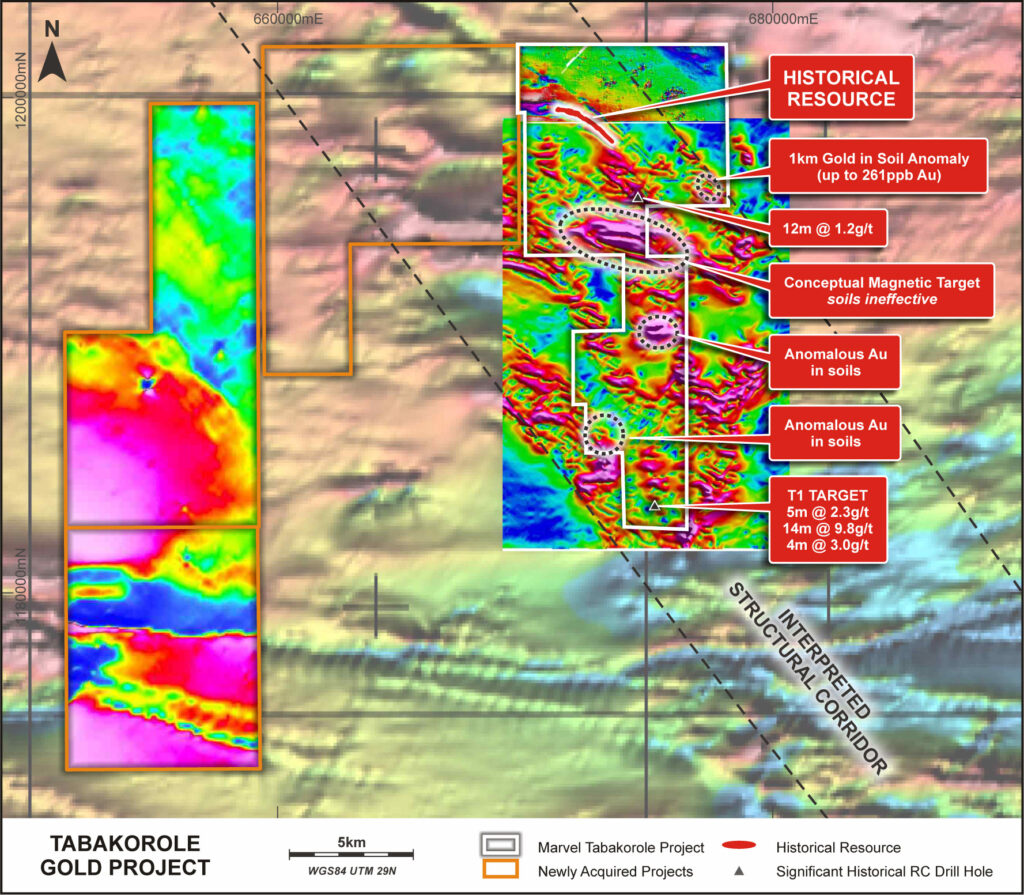 44m @ 3.3 g/t Au from 24m in hole 05TKRC-18
60m @ 2.9 g/t Au from 14m in hole 05FLRC-11
16m @ 9.3 g/t Au from 80m in hole 05FLRC-51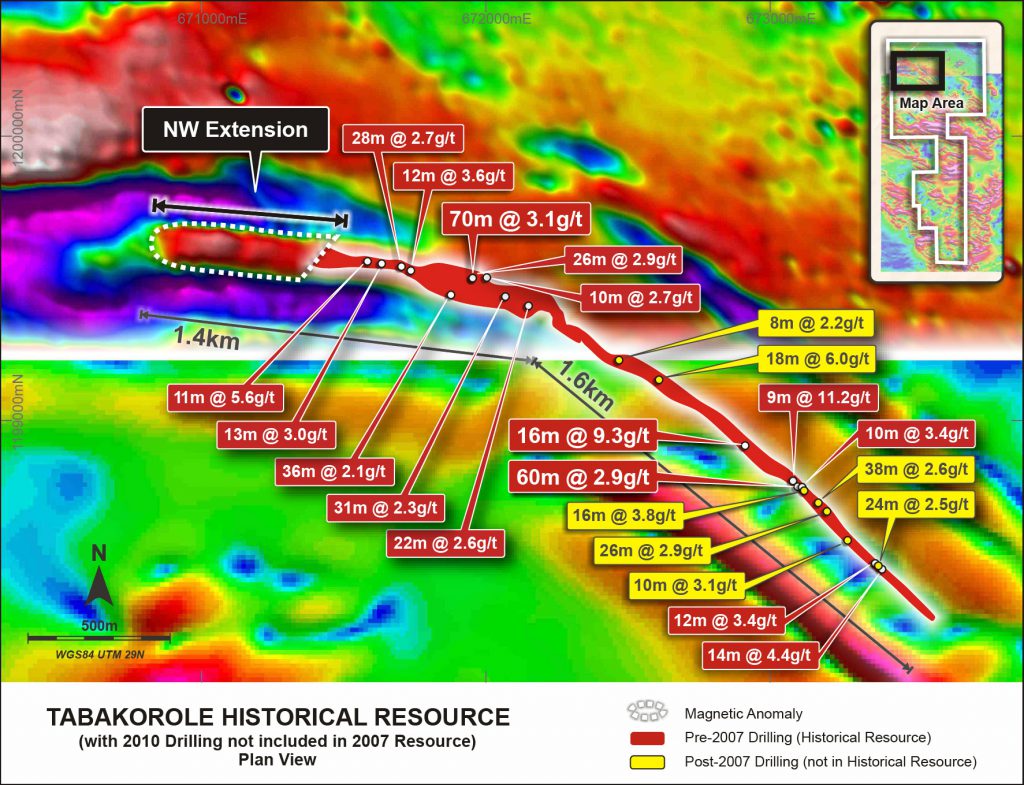 In 2007, a historical mineral resource estimate was reported ('2007 Tabakorole MRE') as follows:
2007 Tabakorole MRE

The 2007 Tabakorole MRE is a historical estimate prepared under Canadian NI 43-101. A competent person has not undertaken sufficient work to classify the 2007 Tabakorole MRE in accordance with the Australasian Code for Reporting of Exploration Results, Mineral Resources and Ore Reserves ('2012 JORC Code') and it is uncertain that following further evaluation and further exploration that the 2007 Tabakorole MRE will be able to be reported as a mineral resource in accordance with the 2012 JORC Code.
The Company has significantly advanced its conceptual understanding on the Tabakorole Gold Project following detailed analysis of the post-2007 exploration data (not previously included in the 2007 Tabakorole MRE), on-site technical review of core and drillhole information (2019 and May 2020), a review of the structural controls on mineralisation and an updated 3D model of the mineralised system.
Exploration Strategy
The Company believes that there is an immediate opportunity to increase the resource estimate size and ore grade at Tabakorole:
Since the 2007 Tabakorole MRE, three drilling campaigns have been completed; in 2010, 2011 and 2014, which returned high-grade intersections including:

18m at 6.0 g/t Au from 12m (hole 10FLRC-12A);
26m at 2.9 g/t Au from 46m (hole 10FLRC-06A);
24m at 2.5 g/t Au from 48m (hole 10FLRC-01A);
These drillholes are not included in the 2007 Tabakorole MRE and together with the Stage 1 drill program already underway, will underpin a maiden 2012 JORC Code resource estimate;
The deposit displays a high degree of strike continuity and there are a number of untested gaps along the 3km strike length of the deposit, which represent immediate drill targets;
Much of the drilling has been within the top 130m of the deposit, with higher grade trends inadequately drill tested below this depth; and
Opportunity for a higher grade through modelling of the mineralisation at a nominal 0.5g/t Au cut-off grade (the 2007 Tabakorole MRE used a broad 0.2g/t Au halo which incorporated significant dilution between well-defined and coherent lodes).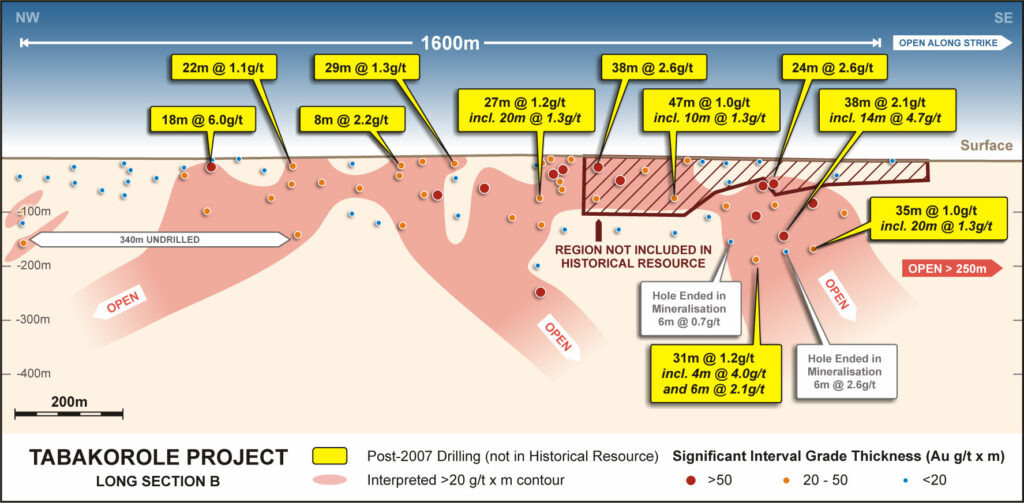 Next Steps
Marvel is producing the maiden Mineral Resource Estimate in accordance with the 2012 JORC Code.